Welcome Home
News and Important Updates
This section will be used to post important information and updates - always be sure to check this area before visiting the rest of the site
The First Screaming Eagles in Vietnam magazine, published by Ivan Worrell,
has been scanned and all 70 issues are available Here(click this link)
Strike Force Book is Ready on Amazon!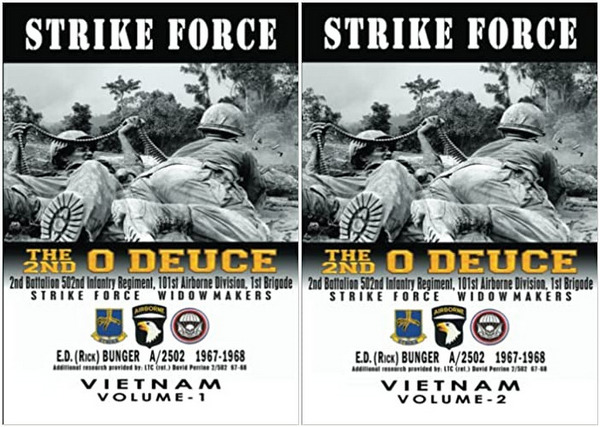 2/502 Memorial at Fort Campbell
PHASE 2
The Widow Maker Emblem
Emblem is ordered and paid for, your donations bought it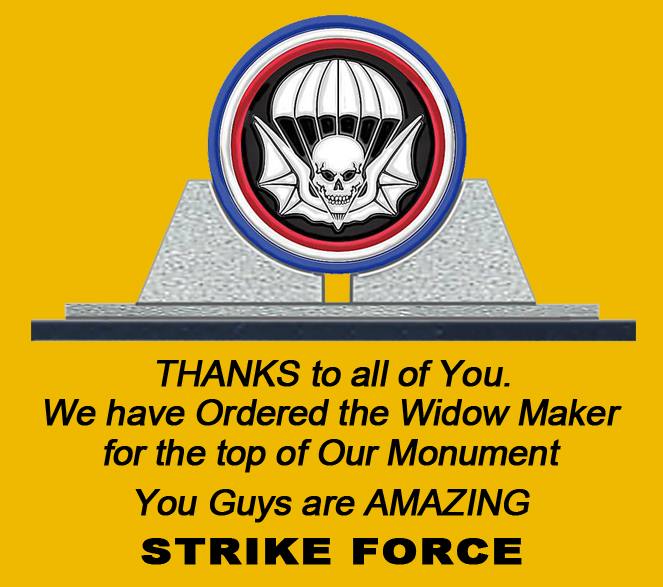 Welcome Home to the Home Page of the O Deuce Widow Makers of Viet Nam. This page is for you.

We welcome your contributions of memories ( Sign in to our Guest Book), photos (Check out the Photo Gallery), friendship (keep coming back to see when the next Reunion will be), and Donations.

We also maintain an O Deuce Member Roster (last updated December 14, 2022 ) that you can download

---

Who we are

The 2nd Battalion of the 502nd Infantry Regiment (often referred to as the 'O Deuce') was part of the 1st Brigade of the 101st Airborne Division in Vietnam. The 1st Brigade of the 101st was one of the first major units in Vietnam - arriving by boat in July 1965. The O Deuce was on that boat as part of the 1st Brigade, and remained in Vietnam until 1972. The historical average "time in combat" for WWII Infantry Soldiers was 40 days, and in Vietnam they give 240 days as the norm or average. In the O Deuce the norm was much closer to 330 days - in a 365 day tour. We lived "in the bush", and saw the "rear area" for only a couple of days at a time, often a month or more apart.

Richard Hayman - Alpha - 1969 (B. Nelson)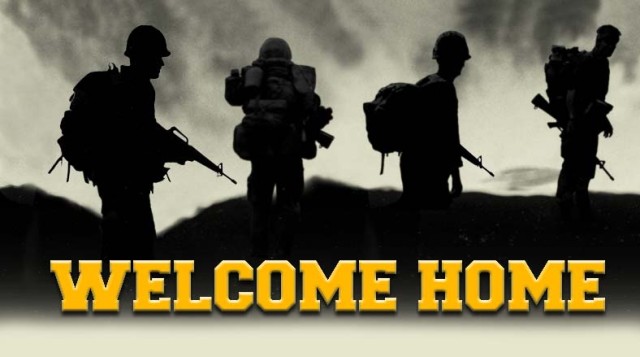 "A couple of years ago, if you had mentioned Viet Nam to me, I wouldn't have even talked to you. I was over and done with that. I finally came to realize that there was a big piece of me missing, and you guys are that missing piece."

from a conversation at the Atlanta 2006 Reunion
Slackers and Wannabees need go no further, because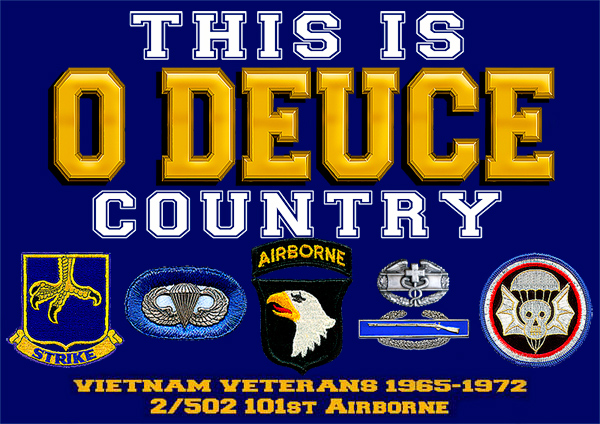 There is a
2/502 Strike Force WidowmakersFacebook Page
you can visit and post in.
Keep Coming Back to See the Latest
And send us your photos and stories to share - send to:
CONTACT INFO
For Your Company - see Contact Info on your Company Page
For website information or to report errors:
For Roster Address and Email Updates, use the update form on the Roster Page
For other Batallion matters:


(updated March 29, 2023)